November, 2010
bteghrine, lebanon
While I had been to Lebanon several times before,
this was my first visit to the family home from which my
grandfather left in the late 19th century.
BTEGHRINE, LEBANON 2010
It is thanks to Edmund Saliba from Byblos, Lebanon that I came to Lebanon and finally traced my family roots to our family home of Bteghrine, Lebanon. Edmund saw my web site and left me a message to contact him. He is always introducing himself to Saliba families he runs into around the world. I wrote him back with a little information about my grandfather. I told him that I was coming to Beirut for a vacation and he said to call him when I got here.

When I called him, he said he had some good news for me. On November 16, 2010, we drove up into the mountains to a village called Bteghrine about 35k from Beirut. It is from here that a letter was written to my grandfather around 1930. My brother Tommy had given me the letter which was written in Arabic and I brought it with me to see if I could find out about the person who wrote it.

Bteghrine, like much of northern Lebanon is over-run with Salibas. As we pulled into the town, we saw a Saliba pharmacy, Saliba service station, Saliba grocery store and on and on. But we were there to meet with the mayor of Bteghrine, Nejm Saliba. He looked at the letter and also read what turned out to be the baptism certificate for Dad which had Dad's parents name on it and he immediately knew who the family was. The family register is 89 in the Lebanese census. The key was the name Jabr which is not a nickname like I thought, but a family name. He made a phone call and in just a few minutes, two young men in their thirties walked in, Walid Saliba and his brother Sammy.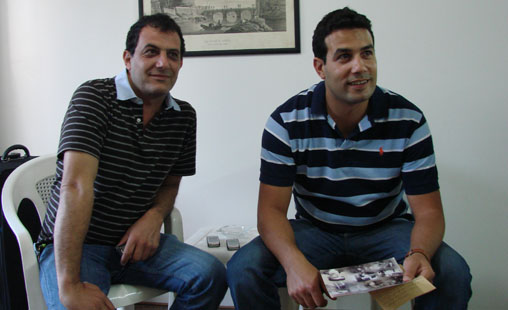 It turns out that Walid and Sammy's grandfather is the brother of my grandfather. So I pulled out a photo of my grandfather to show them what their great-uncle looked like. They were ecstatic! The photo of the picture, which you have all seen of my grandfather, the only photo that we have, is the same as the photo that they have at their home. Not a copy, but the original 4 by 6 from the photographer who took it.
The letter that I had from Bteghrine was from our grandfather's brother, Mikail but was written for him by the then town mayor Gabrial Saliba, probably because at that time, only a few people could write.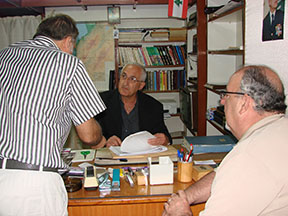 So then, Edmund and his daughter, Walid and Sammy and the mayor took Gordana and I to the Saliba family home, the same home that my grandfather lived in until he left Lebanon for America. There, I met the father, Elias, who is in his 80's and has a failing memory, and I met his wife, Samira. One by one more and more people started to arrive. Another son, Mikail and his family followed later by Elias' sister, Nellie. They all wanted to meet the American cousin.
The afternoon was a traditional Lebanese affair with the women serving drinks and snacks followed by Turkish coffee. Only a few of them spoke English and I speak very little Arabic, so there was a lot of translating going on, but this is what I learned. My grandfather's name was Gerges (which became Georges which became George) Jabr Saliba and his brother was named Mikail. There was a sister named Sedia and another brother named Ghotass. Ghotass went to America, too. Sedia died early. The family is Greek Orthodox.
Mikail's son is Elias and Elias has 6 children. They are George, Walid, Sammy, Michel and 2 girls Najah and Rania. I met Michel, who is a mechanic, and Sammy, who is a carpenter and Walid who is a engineer in Dubai and who had just happened to have arrived home yesterday.
I know we all thought that both my father's name and his father's name was George G. Saliba or G. G. Saliba, but because Arabic cultures use 3 names, your given name, your father's name and the family name, that means that my grandfather was George Jabr Saliba and dad's name was Jabr (his given name) George (his father's name) Saliba (the family name). It's confusing and compounded by the different spellings and pronunciations going from Arabic to English (such as Gerges for George). Remember, Arabic uses different letters and different sounds, so the best you can do is transliterate, not translate.
Well, the bottom line is this. We have made contact with the family in Lebanon and they are interested in keeping the lines of communication open. I am thankful for the invaluable help provided by my new friend Edmund Saliba whose love of family and country led him to me. And I am also thankful to the Elias Saliba family for welcoming me into their home and graciously greeting me and my wife with such warmth and hospitality.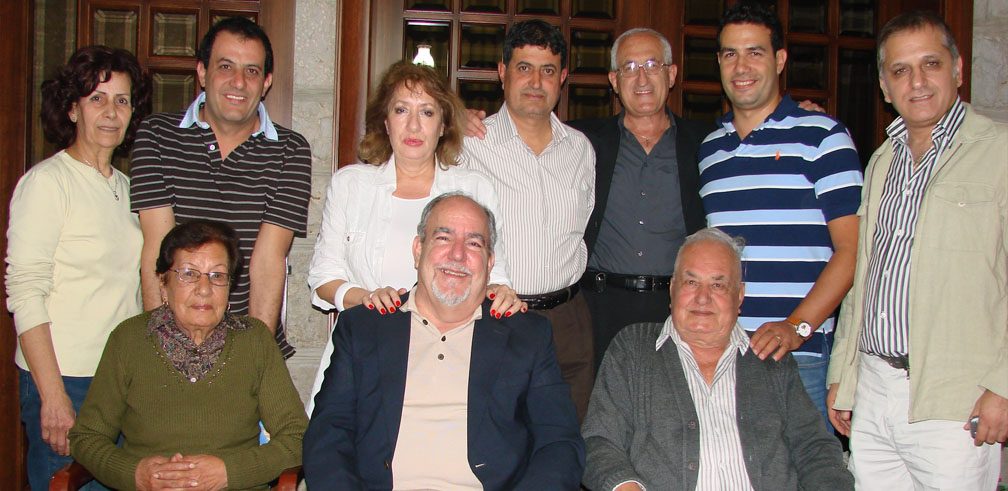 Front row (L toR): Dolly, daughter of Mikail; Mitch, grandson of George; Elias, son of Mikail. Back row: Samira, wife of Elias; Sammy, son of Elias; Gordana, wife of Mitch; Michel, son of Elias; Mayor Nejm Saliba; Walid, son of Elias and Edmund Saliba, the man who brought me to Bteghrine.